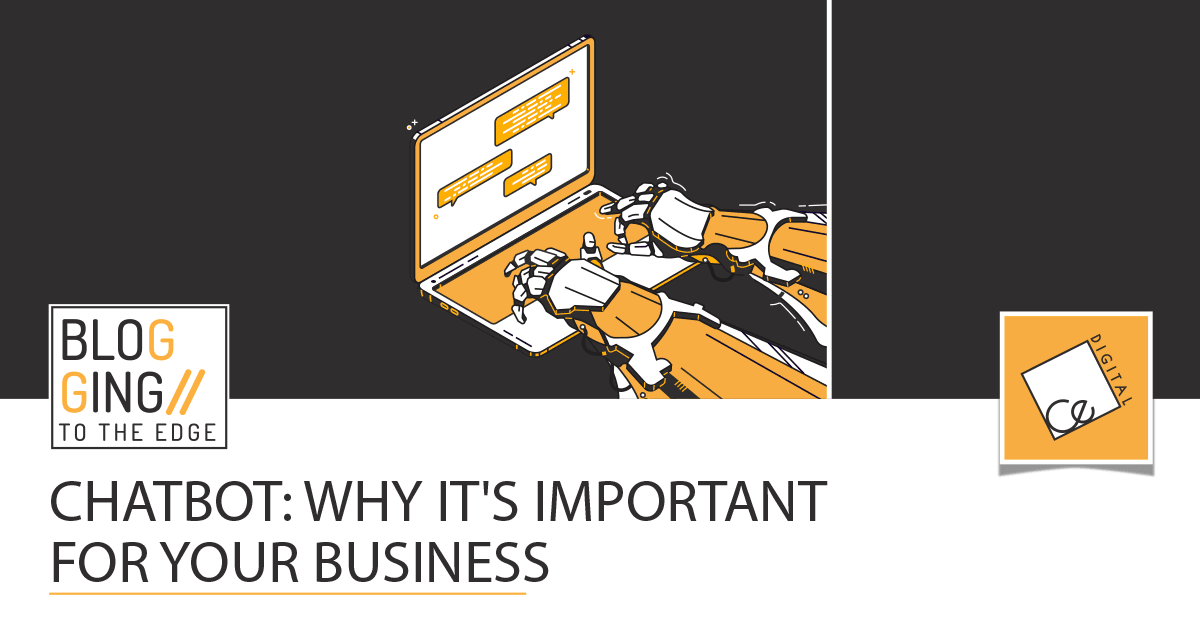 Christina Kleopa – Office Admin & Social Media Account Manager of Competitive Edge Digital.
You've probably heard of Chatbots before. Their origins lie back in 1966 when the firstborn chatbot, named ELIZA, was created by Professor Joseph Weizenbaum.
Joseph Weizenbaum, considered this program as a method to show the shallowness of communication between humans and machines, but was surprised by the amount of people who attributed human emotions to the program. ELIZA, despite the fact that it could engage in conversation, could not "discuss" by having true perception and understanding.
To date, various chatbots have been developed and they have been functioning in recent years as virtual assistants to the users of an operating system.
More specifically, a chatbot is an application of automated communication and customer service, using which a customer can communicate and receive answers from the "brand" 24 hours a day, in a direct and fast way! It performs specific functions by imitating as closely as possible the human speech, written or spoken.
With a chatbot it goes without saying that we cannot "chat". But we can get useful information about issues related to a business easily and quickly.
This communication can be done either via email, Facebook (messenger), Instagram (inbox), WhatsApp, Viber, Skype, Slack or directly through the brands' website.
The chatbot is considered very helpful for several industries. Hotels, travel and airline companies are typical examples of pioneering users in chatbots, as this way can make the booking of a room or a ticket an easy task.
Chatbots can also be integrated into websites – mainly e-shops – related to fashion, interior design & decoration, home furnishings and more. More generally, purchases that require specialised search tools can be very easily carried out with the help of chatbots.
Consumers
seem to

trust

these

bots

and choose them as:
They are a

quick and efficient way to access information.

They wish to

explore their possibilities and try something new and different.

They can

participate in social media competitions

through the chatbot.
But what are its

advantages

and how can it

help a brand

to

implement

its

online strategy?
Collecting helpful information about the audience

The use of the chatbot on social media favours a brand because of the system's ability to collect information about each user it comes in contact with.

This allows the brand to know more easily the characteristics and requirements of the audience, learning what is most profitable for them and how they can become better. At the same time, the brand can create personalised ads and tips for a more direct contact with its audience.

Communicate with the customer before they act

The chatbot has the ability to communicate with the user before they do it, with questions such as "do you need help with something?", what an employee in a physical store would essentially do.

In this way, the brand offers security to its audience, implicitly stating that it is there for whatever the customer needs.

Interaction with users on social media

By using the chatbot on social media, the brand offers 24/7 communication with the audience. This improves the audience experience and service alongside your brand's social media marketing efforts.

Speed of communication

With the use of chatbot, communication with the audience is done at a fast pace while offering multiple communication with it.

Offer a better service

Modern chatbots not only have the ability to automatically answer visitors' queries, but also ask targeted questions to direct each visitor to relevant content.

Chatbots evolve as consumers evolve

Like humans, chatbots learn from experience and evolve through artificial intelligence. Therefore, the more data they gather, the better services they can offer. Having said that, chatbots are expected to be even more realistic in the future, even replacing many of the applications we use every day.
Artificial intelligence nowadays plays a key role in technology since it replicates the cognitive functions of a human, such as learning, planning and creativity since they can analyse the consequences of previous actions and solve problems autonomously.
Although AI is already affecting our daily lives, it is expected to bring even more enormous changes and play an even more crucial role in the digital transformation of our society.
To sum up, the need to integrate chatbots into your digital marketing strategy is imperative if you want both your business and your actions to appeal to today's consumer by offering a sense of advanced technology!
Contact us today to create your own personalised chatbot and promote your brand to a sophisticated level that marches alongside the needs of today's world.
References